36 Greatest Hits!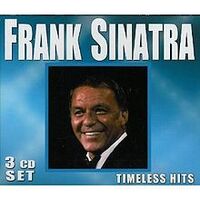 Release date(s)
January 25, 2010
36 Greatest Hits! is a 2010 compilation of Frank Sinatra's work under Reprise Records.
"Ring-A-Ding-Ding!" (Jimmy Van Heusen, Sammy Cahn)
"Summer Wind" (Mercer, Hanz Bradtke, Heinz Meyer)
"Swinging on a Star" (Van Heusen, Johnny Burke)
"I Wished on the Moon" (Dorothy Parker, Ralph Rainger)
"Then Suddenly Love" (Ray Alfred, Paul Vance)
"Love Me Tender" (Vera Matson, Elvis Presley)
"The Continental" (Herb Magidson, Con Conrad)
"I'll Never Smile Again" (Ruth Lowe)
"It's a Wonderful World" (Adamson, Jan Savitt, Johnny Watson)
"Send in the Clowns" (Stephen Sondheim)
"Pocketful of Miracles" (Cahn, Van Heusen)
"Softly, as I Leave You" (Hal Shaper, Antonio DeVito, Giorgio Calabrese)
Community content is available under
CC-BY-SA
unless otherwise noted.