A Man and his Music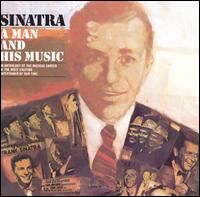 Recorded
December 19, 1960 – October 21, 1965
'A Man and His Music is a 1965 Reprise album that gives a narration and retrospective of Frank Sinatra's career up to the time. It is Sinatra's forty-seventh studio album.
Of the thirty-two tracks, most of the earlier ones had to be re-recorded due to licensing issues.
Nearly only 2000 copies of A Man and his Music were made, the majority of which were given to fans who attended Sinatra-based events in 1965. Inside each copy, was a card numbered and signed by Sinatra, himself.
Track listing
[
]
Disc one
[
]
"Put Your Dreams Away (For Another Day)" (Paul Mann, George David Weiss, Ruth Lowe) – 3:10
"All or Nothing at All" (Jack Lawrence, Arthur Altman) – 4:26
"I'll Never Smile Again" (Ruth Lowe) – 2:49
"There Are Such Things" (George W. Meyer, Stanley Adams, Abel Baer) – 2:57
"I'll Be Seeing You" (Sammy Fain, Irving Kahal) – 3:06
"The One I Love (Belongs to Somebody Else)" (Gus Kahn, Isham Jones) – 3:03
"Polka Dots and Moonbeams" (Johnny Burke, Jimmy Van Heusen) – 4:46
"Night and Day" (Cole Porter) – 4:29
"Oh! What It Seemed to Be" (Bennie Benjamin, Weiss, Frankie Carle) – 3:26
"Soliloquy" (Richard Rodgers, Oscar Hammerstein II) – 8:19
"Nancy (With the Laughing Face)" (Phil Silvers, Van Heusen) – 4:21
"

The House I Live In (That's America to Me)

" (Lewis Allan, Earl Robinson) – 4:40
"From Here to Eternity" (Karger, Wells) – 2:44
Disc two
[
]
"Come Fly with Me" (Sammy Cahn, Van Heusen) – 2:13
"(How Little It Matters) How Little We Know" (Carolyn Leigh, Phil Springers) – 2:29
"Learnin' the Blues" (Dolores Vicki Silvers) – 2:31
"In the Wee Small Hours of the Morning" (David Mann, Bob Hilliard) – 2:43
"Young at Heart" (Leigh, Johnny Richards) – 3:51
"Witchcraft" (Cy Coleman, Leigh) – 2:52
"All the Way" (Cahn, Van Heusen) – 3:27
"Love and Marriage" (Cahn, Van Heusen) – 1:29
"I've Got You Under My Skin" (Porter) – 3:26
"Ring-a-Ding Ding!" (Cahn, Van Heusen) – 1:07
"The Second Time Around" (Cahn, Van Heusen) – 2:13
"

The Summit

" (Frank Sinatra, Dean Martin, Sammy Davis, Jr.) – 5:20
"The Oldest Established (Permanent Floating Crap Game in New York)" (with Dean Martin and Bing Crosby) (Frank Loesser) – 2:09
"Luck Be a Lady" (Loesser) – 2:25
"Call Me Irresponsible" (Cahn, Van Heusen) – 2:45
"Fly Me to the Moon (In Other Words)" (Bart Howard) – 2:30
"Softly, as I Leave You" (Hal Shaper, Antonio DeVito, Giorgio Calabrese) – 2:57
"My Kind of Town (Chicago Is)" (Cahn, Van Heusen) – 2:30
"The September of My Years" (Cahn, Van Heusen) – 3:22