For the song "All Alone," see "All Alone (song)."
All Alone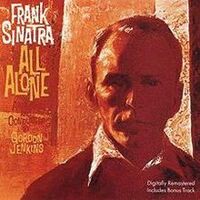 Release date(s)
October 1962
1992
2009
Recorded
January 15 – January 17, 1962
Total tracks
11 (1962 LP)
(12 1992 CD)
All Alone is a studio album by Frank Sinatra that was released in the October of 1962. It is Sinatra's thirty-fourth studio album.
Although the original name of the album was to be "Come Waltz With Me", the name was dropped and so was the track, but the overall theme of the album did not change. In 1999, however, in the CD reissue of All Alone, "Come Waltz With Me" was featured as a bonus track. On March 8, 2011, it was re-released again with the same details.
Though not featured in the album or CD re-releases of it, the songs "The Look of Love" and "I Left My Heart in San Francisco" were recorded during the recordings for All Alone. In addition to this A/B side single, a second single featuring "The Look of Love" was released in 1962, this one featuring the song "Indiscreet."[1]
All Alone received a poor score of two and a half out of five stars from Allmusic. All Music's Stephen Thomas Erlewine claims "Sinatra doesn't strictly follow Jenkins' intentions" though "the results are quite moving, especially on the opening and closing Irving Berlin ballads, "All Alone" and "The Song Is Ended.""[2]
In its year of release of 1962, All Alone peaked at #25 on the Billboard 200 charts.[3]
Personnel

Lew Brown
Composer
Buddy DeSylva
Composer
Ray Henderson
Composer
Lee Herschberg
Digital Remastering
James Isaacs
Liner Notes
Edward Jablonski
Liner Notes
Gordon Jenkins
Arranger, Conductor
Merle Shore
Art Direction
Frank Sinatra
Vocals
Weber
Artwork
Community content is available under
CC-BY-SA
unless otherwise noted.