Christmas Songs by Sinatra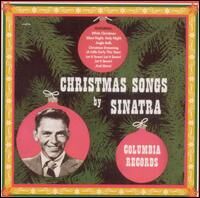 Recorded
November 14, 1944
Total tracks
8 (15 in 1994 compilation)
Christmas Songs by Sinatra is the fourth studio album of Frank Sinatra. In 1994, a compilation album was released; the album included bonus Christmas songs from Sinatra's years at Columbia records.
Track Listing
[
]
Original Listing
[
]
1994 Compilation
[
]
"White Christmas" (Irving Berlin) - 3:25
"Silent Night" (Josef Mohr, Franz X. Gruber) - 3:19
"Adeste Fideles (O, Come All Ye Faithful)" (Frederick Oakeley, John Francis Wade) - 2:38
"Jingle Bells" (James Pierpont) - 2:37
"Have Yourself a Merry Little Christmas" (Ralph Blane, Hugh Martin) - 2:36
"

Christmas Dreaming (A Little Early This Year)

" (Irving Gordon, Lester Lee) - 3:01
"It Came Upon A Midnight Clear" (Edmund Sears, Richard Storrs Willis) - 3:34
"O Little Town of Bethlehem" (Phillips Brooks, Lewis Redner) - 3:07
"Santa Claus Is Coming to Town" (J. Fred Coots, Haven Gillespie) - 2:36
"Let It Snow! Let It Snow! Let It Snow!" (Sammy Cahn, Jule Styne) - 2:38
Introduction by General Reynolds, Chief of Special Services]] – 0:57
Medley: "O, Little Town of Bethlehem"/"Joy to the World"/"White Christmas" (Brooks, Redner)/(Isaac Watts, Lowell Mason)/(Berlin) – 5:18
"Ave Maria" (Franz Schubert) - 3:31
"Winter Wonderland" (Felix Bernard, Richard B. Smith) - 2:06
"

The Lord's Prayer

" (Albert Hay Malotte) - 3:36
Singles
[
]
"White Christmas" was released as a single featuring the song "Mighty Lak' a Rose" in 1945. In 1946, "Silent Night" and "Adeste Fideles" were released together. Also in 1946 was the album's final single, a re-release of "White Christmas" and "Jingle Bells."