Classic Duets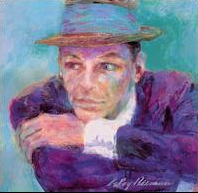 Classic Duets is a compilation of songs Frank Sinatra recorded under Capitol Records. The album was released in 2002.
As the name suggests, this album features songs that were only duets. This album's theme features not only studio recordings of duets Sinatra made, but also, the album is riddled with live performances made by Sinatra alongside his duet partners.
The album was released with an intentional similar art style to Sinatra's initial duets album, his 1993 Capitol album, Duets. The album's cover may resemble Duets and Duets II, but the recordings of this album were made entirely different.
The album features a total of twenty-one songs, all of which duets, but not all of which with the a different duet partner. Sinatra performs three different duets, "Can't We Be Friends?," a melody of "Moonlight in Vermont" and "I May Be Wrong," and, closing the album, "Put Your Dreams Away (For Another Day)," with "The First Lady of Song" herself, Ella Fitzgerald. "Side by Side" on this album was song alongside Sinatra's daughter Nancy as well as the Tri-Tones, and Nancy reappears near the end of the album to perform "You Make Me Feel So Young" with her father.
Sinatra goes back to Rat-Pack routes with a few of these performances as well. Dean Martin appears on the album alongside Bing Crosby to sing with Sinatra on "Together." Martin returns to the album, performing nine songs in a five-minute melody – "Sunday, Monday or Always," "On a Slow Boat to China," "Saturday Night (Is the Loneliest Night of the Week)," "Memories Are made of This," "The Girl that I Marry," "Innamorata," "I've Got a Crush on You," "Oh, Marie," and "Don't Cry, Joe (Let Her Go, Let Her Go, Let Her Go)" – alongside Sinatra. Sammy Davis, Jr. takes the next track of the album, featuring Sinatra and Davis, Jr.'s interpretation of "Me and My Shadow."
Another interesting duet on this album is Sinatra's first release of his duet with "The King of Rock 'n' Roll," Elvis Presley. The King's representation of Sinatra's "Witchcraft" falls short while compared to Sinatra's swinging through the King's "Love Me Tender." Sinatra later recorded "Love Me Tender" on his own for his 1980 album, Trilogy: Past Present Future.
Sinatra performs a duet with Lena Horne of several songs written by Harold Arlen in the last leg of this album. Horne is one of the few artists that was selected to perform in Sinatra's 1990s Duets projects, performing "Embraceable You" alongside Sinatra.
Personnel

Maxwell Anderson
Composer
Louis Armstrong
Primary Artist
John Blackburn
Composer
Lew Brown
Composer
Wendy Brueder
Project Manager
Sammy Cahn
Composer
Cy Coleman
Composer
Frank Collura
Producer
Bing Crosby
Guest Artist, Primary Artist
Sammy Davis, Jr.
Guest Artist, Primary Artist
Buddy DeSylva
Composer
Dave Dreyer
Composer
Andy Engel
Illustrations
Robert Finkelstein
Executive Producer
Ella Fitzgerald
Guest Artist, Primary Artist
Clarence Gaskill
Composer
George Gershwin
Composer
Ira Gershwin
Composer
Mack Gordon
Composer
Brendan Gormley
Editorial Supervision
Oscar Hammerstein II
Composer
Ray Henderson
Composer
James Van Heusen
Composer
The Hi-Lo's
Primary Artist
Lena Horne
Guest Artist, Primary Artist
Paul James
Composer
Al Jolson
Composer
Carmell Jones
Primary Artist
Bryan Kelley
Producer
Kids
Performer, Primary Artist
Peggy Lee
Guest Artist, Primary Artist
Jose Legaspi
Package Design
Carolyn Leigh
Composer
Ruth Lowe
Composer
Paul Mann
Composer
Dean Martin
Guest Artist, Primary Artist
Vera Matson
Composer
The McGuire Sisters
Primary Artist
Jimmy McHugh
Composer
Johnny Mercer
Composer
Ethel Merman
Primary Artist
Josef Myrow
Composer
LeRoy Neiman
Cover Painting
Charles Pignone
Liner Notes, Producer, Transcription
Cole Porter
Composer
Elvis Presley
Composer, Guest Artist, Primary Artist
Louis Prima
Primary Artist
Richard Rodgers
Composer
Billy Rose
Composer
Dinah Shore
Primary Artist
Frank Sinatra
Primary Artist
Frank Sinatra, Jr.
Liner Notes
Nancy Sinatra
Guest Artist, Liner Notes, Primary Artist
Tina Sinatra
Liner Notes
Keely Smith
Primary Artist
Barrie Smithers
Producer
Tommy Steele
Art Direction
Karl Suessdorf
Composer
Kay Swift
Composer
Tri-Tones
Primary Artist
Larry Walsh
Digital Remastering
Shannon Ward
Producer
Kurt Weill
Composer
George David Weiss
Composer
Community content is available under
CC-BY-SA
unless otherwise noted.