Close to You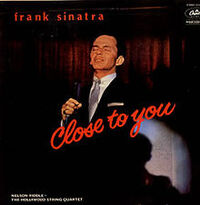 Recorded
March 8, April 4 – 5, November 1, 1956
Total tracks
12 (1957 LP) (15 2002 CD)
Close to You, named Close to You and More in its CD re-release, is the thirteenth studio album of Frank Sinatra. Arranged by Nelson Riddle, the album was recorded and released under Capitol Records.
Track listing
[
]
Reception
[
]
Allmusic scored the album at four out of five stars. Stephen Thomas Erlewine of Allmusic claimed that the album was "one of the most unusual and special of Sinatra's albums, featuring a subdued and detailed performances that accentuate both the romantic longing and understated humor of the numbers."[1]
Close to You peaked at #5 on the Billboard Charts of 1957.[2]
Personnel
[
]
Personnel

Tom Adair
Composer
Matt Dennis
Composer
Voyle Gilmore
Producer
Hollywood String Quartet
Strings
Wayne Moss
Engineer
Bob Norberg
Remastering
Nelson Riddle
Arranger, Conductor
Don Sciarrotta
Engineer
Frank Sinatra
Vocals
Howard Steele
Engineer
Jule Styne
Composer
Michael Sunday
Producer
Pete Welding
Annotation, Compilation, Liner Notes
Joe Wilson
Engineer
References
[
]