Come Dance With Me!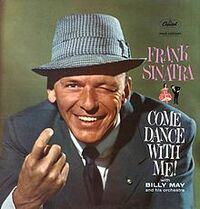 Release date(s)
January 1959
1987
1992
1998
1999
2009
Recorded
December 9, December 22, 23, 1958
Total tracks
12 (16 in CD re-release)
Come Dance with Me! is Frank Sinatra's twenty-first studio album. The album was released initially in 1959 for Capitol Records. It was Sinatra's second recording with arranger, Billy May.
Peaking at #2 on the Pop charts and remaining on the board for 140 weeks, Come Dance With Me! remains to be Sinatra's most successful album.
At the Grammy Awards of 1960, Come Dance With Me! took three awards: the Grammy Award for Album of the Year, the Grammy Award for Best Vocal Performance, Male, and the Grammy Award for Best Arrangement. The second of which was given to Frank Sinatra and the third was to Billy May.
Track listing
Edit
Though not featured in the original LP's track listing, the song "Same Old Song and Dance" was released as a single along with the song "Monique," a song from Kings Go Forth. In addition, the songs "Nothing In Common" and "How are Ya Fixed for Love?" were featured as a single together.[1]
Reception
Edit
Allmusic praised the album, calling it Sinatra's "hardest swing album ever." Stephen Thomas Erlewine of Allmusic also stated that "the album has a fair share of slower numbers, but the songs that make the biggest impression are the up-tempo cuts."[2]
Come Dance with Me! peaked at #2 on the Billboard 200 charts of 1959. In addition, the album's single "How Are Ya' Fixed for Love?" peaked at #22 on the Billboard Hot 100 charts of 1958.[3]
Awards and nominations
Edit
Come Dance with Me! won three Grammy awards at the 1959 Grammy ceremonies. Sinatra himself took the awards for "Best Male Pop Voice Performance" as well as "Album of the Year" because of this album. Billy May, the album's arranger, took a third award in the category of "Best Arrangement Accompanying a Vocalist or Instrumentalist."[4]
Sinatra also won another award during the 1959 ceremony, but not because of Come Dance with Me! directly. Sinatra was awarded a special award in the category of "Artists & Repertoire Contribution."[5]
Personnel
Edit
Personnel

Jerry Bock
Composer
Alexander Borodin
Composer
Lew Brown
Composer
Sammy Cahn
Composer
Dave Cavanaugh
Producer
Eric Clapton
Composer
Betty Comden
Composer
Buddy DeSylva
Composer
Howard Dietz
Composer
George Forrest
Composer
Adolph Green
Composer
Ray Henderson
Composer
James Van Heusen
Composer
Larry Holofcener
Composer
Billy May
Arranger, Conductor
Arthur Schwartz
Composer
Frank Sinatra
Vocals
Keely Smith
Vocals
Jule Styne
Composer
George David Weiss
Composer
Pete Welding
Liner Notes
Bobby Worth
Composer
Robert Wright
Composer
References
Edit
Community content is available under
CC-BY-SA
unless otherwise noted.