Come Swing with Me!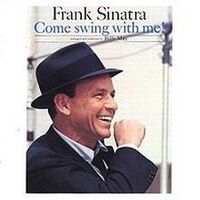 Recorded
March 20-22, 1961
Total tracks
12 (17 in CD re-release)
Come Swing with Me! is the twenty-sixth studio album of Frank Sinatra. It was arranged primarily by Billy May and was released under Capitol Records in 1961. Come Swing with Me! is Sinatra's second-to-last Capitol album before signing on to Reprise Records, second to Point of No Return.
Several songs from Come Swing with Me! were released as singles. 1961 brought two songs from the album, "American Beauty Rose" and "Sentimental Journey," to the charts and these songs were released together as an A/B side single. In 1962, "Five Minutes More" was released as a B-side single with the song "I'll Remember April." "Five Minutes More" was later released along with the song "I Love Paris;" this was Sinatra's final single to be released under Capitol Records.[1]
Stephen Thomas Erlewine of Allmusic claims that Come Swing with Me! lies "somewhere between the carefree Come Fly with Me and the hard-swinging Come Dance with Me!." Though "Sinatra was also recording I Remember Tommy for Reprise and his affections were with his new label," Erlewine insists that this "intense, speedy energy gives the album an edge that distinguishes the record."[2]
Personnel

Harry Archer
Composer
Heine Beau
Arranger
Johnny Black
Composer
Johnny S. Black
Composer
Dave Cavanaugh
Producer
Mack David
Composer
Tyree Glenn
Composer
Skip Martin
Arranger, Conductor
Billy May
Arranger, Conductor
Bob Norberg
Digital Remastering
Nelson Riddle
Arranger, Conductor
Allan Roberts
Composer
Frank Sinatra
Vocals
Harlan Thompson
Composer
Larry Walsh
Digital Remastering, Remastering
Pete Welding
Liner Notes
Harry MacGregor Woods
Composer
Community content is available under
CC-BY-SA
unless otherwise noted.