Cycles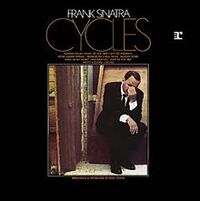 Release date(s)
November 1968 (LP)
May 1999 (CD)
Recorded
July 24–November 14, 1968
Cycles is a 1968 studio album of Frank Sinatra. It is Sinatra's fifty-fifth studio album.
The album was arranged and conducted by Don Costa.
Track listing
[
]
Singles
[
]
Three songs featured in Cycles were released as singles. The title track and "My Way of Life" were released together in 1968. In 1969, Sinatra's rendition of "Rain in My Heart" was released as the third and final single, featuring the song "Star!."[1]
Reception
[
]
Allmusic gave Cycles a low score of two out of five stars mostly because of its "material associated with folk-rock." In addition, Stephen Thomas Erlewine of Allmusic claims that "some of the material isn't well-suited for Sinatra" or that "there simply isn't enough variety to sustain interest."[2]
Cycles peaked on the Billboard 200 charts of 1969 at #18. The singles of Cycles did well on the Adult Contemporary charts, having the title track peat at #2 with the other two singles, "My Way of Life" and "Rain in My Heart," peaking at #3 respectively. However, on the Billboard 200 charts, the title track made its way to #23, leaving "My Way of Life" at #64 and "Rain in My Heart" at #62.[3]
Personnel
[
]
Personnel

Gayle Caldwell
Composer
Judith Caldwell
Composer
Don Costa
Arranger, Producer
Al Giorgoni
Composer
Hal Halverstadt
Liner Notes
Lee Herschberg
Engineer
Frank Laico
Engineer
Bill Miller
Conductor
Victoria Pike
Composer
Teddy Randazzo
Composer
Frank Sinatra
Vocals
Chip Taylor
Composer
Ed Thrasher
Art Direction, Photography
Bill Tole
Trombone
References
[
]