Duets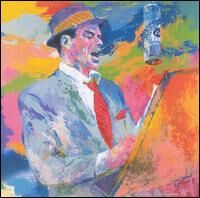 Release date(s)
November 2, 1993
Recorded
August - September,1993
Producer
Phil Ramone
Hank Cattaneo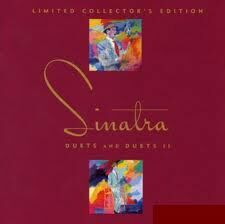 Duets/Duets II: 90th Birthday Limited Collector's Edition
Duets is the sixty-sixth and second-to-last studio album by Frank Sinatra.
After leaving nearly 40 years prior, Sinatra performed Duets with Capitol Records involved. As the title suggests, Frank Sinatra, for all the tracks in the album, sings duets with a dozen other famous singers and artists of the era.
Even with the very mixed reception of the album, Duets did quite well as it reached #2 on the Billboard albums chart; #5 in the UK.
Sinatra and the guests recorded it in the late summer of 1993 and was then released in early November of that year. However, none of the guests were actually present with Sinatra during the recording sessions. Instead, using digital audio telecommunications links, the artists involved recorded over various Sinatra songs along with the regular Sinatra vocals. This type of recording was also used for Duets II, and was used for other similar albums such as Dean Martin's 2011 album, Forever Cool.
In 2005, in commemoration for Sinatra's 90th birthday celebration, both Duets and Duets II were released together in a box set. This box set featured all of the tracks from the original 1993 and '94 albums as well as a previously unreleased outtake from the albums, a duet of Sinatra's signature song, "My Way," featuring Willie Nelson.
A second duet of "My Way" was performed by Sinatra as well – this one featuring Luciano Pavarotti. This rendition of the song was unreleased only until 1995, however, as it was featured in the live album, Sinatra 80th: Live in Concert, as a closing track that has no connection to the concerts used for the album.
To commemorate Duets' 20th anniversary, the album and its sequel will be re-released in a special collector's edition.[1] This special edition features both Duets and Duets II on both 12" vinyl and compact disc. Both albums feature new bonus tracks as well, featuring the below tracks:
tracks added to Duets
"My Way" with Luciano Pavarotti (Previously released on Sinatra 80th: Live in Concert)
"One For My Baby (And One More For The Road)" with Tom Scott (Previously Unreleased)
tracks added to Duets II
"My Way" with Willie Nelson (Previously released on Duets/Duets II: 90th Birthday Limited Collector's Edition)
"Embraceable You" with Tanya Tucker (Previously Unreleased)
"Fly Me To The Moon (In Other Words)" with George Strait (Previously Unreleased)
Community content is available under
CC-BY-SA
unless otherwise noted.