Duets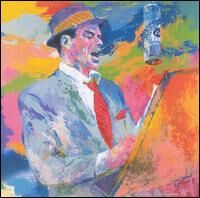 Release date(s)
November 2, 1993
Recorded
August - September,1993
Producer
Phil Ramone
Hank Cattaneo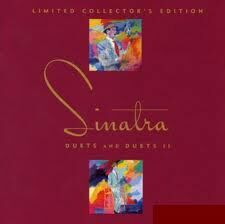 Duets/Duets II: 90th Birthday Limited Collector's Edition
Duets is the sixty-sixth and second-to-last studio album by Frank Sinatra.
After leaving nearly 40 years prior, Sinatra performed Duets with Capitol Records involved. As the title suggests, Frank Sinatra, for all the tracks in the album, sings duets with a dozen other famous singers and artists of the era.
Even with the very mixed reception of the album, Duets did quite well as it reached #2 on the Billboard albums chart; #5 in the UK.
Recording
[
]
Sinatra and the guests recorded it in the late summer of 1993 and was then released in early November of that year. However, none of the guests were actually present with Sinatra during the recording sessions. Instead, using digital audio telecommunications links, the artists involved recorded over various Sinatra songs along with the regular Sinatra vocals. This type of recording was also used for Duets II, and was used for other similar albums such as Dean Martin's 2011 album, Forever Cool.
Track Listing
[
]
"The Lady Is a Tramp" (Richard Rodgers, Lorenz Hart) (with Luther Vandross) – 3:24
"What Now My Love" (Gilbert Becaud, Carl Sigman, Pierre Leroyer) (with Aretha Franklin) – 3:15
"I've Got a Crush on You" (George Gershwin, Ira Gershwin) (with Barbra Streisand) – 3:23
"Summer Wind" (Heinz Meier, Hans Bradtke, Johnny Mercer) (with Julio Iglesias) – 2:32
"Come Rain or Come Shine" (Harold Arlen, Mercer) (with Gloria Estefan) – 4:04
"Theme from New York, New York" (Fred Ebb, John Kander) (with Tony Bennett) – 3:30
"They Can't Take That Away from Me" (G. Gershwin, I. Gershwin) (with Natalie Cole) – 3:11
"You Make Me Feel So Young" (Mack Gordon, Josef Myrow) (with Charles Aznavour) – 3:05
"Guess I'll Hang My Tears Out to Dry"/"In the Wee Small Hours of the Morning" (Sammy Cahn, Jule Styne)/(Bob Hilliard, David Mann) (with Carly Simon) – 3:57
"I've Got the World on a String" (Arlen, Ted Koehler) (with Liza Minnelli) – 2:18
"Witchcraft" (Carolyn Leigh, Cy Coleman) (with Anita Baker) – 3:22
"I've Got You Under My Skin" (Cole Porter) (with Bono) – 3:32
"All the Way"/"One for My Baby (and One More for the Road)" (Cahn, Jimmy Van Heusen)/(Arlen, Mercer) (with Kenny G) – 6:03

Expanded track listing of Duets/Duets II: 90th Birthday Limited Collector's Edition:

"For Once in My Life" (Ron Miller, Orlando Murden) (with Gladys Knight and Stevie Wonder) – 3:18
"Come Fly with Me" (Sammy Cahn, Jimmy Van Heusen) (with Luis Miguel) – 4:17
"Bewitched, Bothered and Bewildered" (Richard Rodgers, Lorenz Hart) (with Patti Labelle) – 3:31
"The Best is Yet to Come" (Cy Coleman, Carolyn Leigh) (with Jon Secada) – 3:12
"Moonlight in Vermont" (John Blackburn, Karl Suessdorf) (with Linda Ronstadt) – 4:07
"Fly Me to the Moon (In Other Words)" (Bart Howard) (with Antonio Carlos Jobim) – 3:06
"Luck Be a Lady" (Frank Loesser) (with Chrissie Hynde) – 5:17
"A Foggy Day" (George Gershwin, Ira Gershwin) (with Willie Nelson) – 2:24
"Where or When" (Rodgers, Hart) (with Steve Lawrence and Eydie Gorme) – 3:53
"Embraceable You" (G. Gershwin, I. Gershwin) (with Lena Horne) – 3:45
"Mack the Knife" (Marc Blitzstein, Bertolt Brecht, Kurt Weill) (with Jimmy Buffett) – 4:26
"How Do You Keep the Music Playing?"/"My Funny Valentine" (Alan Bergman, Marilyn Bergman, Michel Legrand)/(Rodgers, Hart) (with Lorrie Morgan) – 3:58
"My Kind of Town (Chicago Is)" (Cahn, Van Heusen) (with Frank Sinatra, Jr.) – 2:33
"

The House I Live In (That's America to Me)

" (Lewis Allan, Earl Robinson) (with Neil Diamond) – 4:14
"My Way" duets
[
]
In 2005, in commemoration for Sinatra's 90th birthday celebration, both Duets and Duets II were released together in a box set. This box set featured all of the tracks from the original 1993 and '94 albums as well as a previously unreleased outtake from the albums, a duet of Sinatra's signature song, "My Way," featuring Willie Nelson.
A second duet of "My Way" was performed by Sinatra as well – this one featuring Luciano Pavarotti. This rendition of the song was unreleased only until 1995, however, as it was featured in the live album, Sinatra 80th: Live in Concert, as a closing track that has no connection to the concerts used for the album.
20th anniversary
[
]
To commemorate Duets' 20th anniversary, the album and its sequel will be re-released in a special collector's edition.[1] This special edition features both Duets and Duets II on both 12" vinyl and compact disc. Both albums feature new bonus tracks as well, featuring the below tracks:
tracks added to Duets
"My Way" with Luciano Pavarotti (Previously released on Sinatra 80th: Live in Concert)
"One For My Baby (And One More For The Road)" with Tom Scott (Previously Unreleased)
tracks added to Duets II
"My Way" with Willie Nelson (Previously released on Duets/Duets II: 90th Birthday Limited Collector's Edition)
"Embraceable You" with Tanya Tucker (Previously Unreleased)
"Fly Me To The Moon (In Other Words)" with George Strait (Previously Unreleased)
References
[
]