Francis A. & Edward K.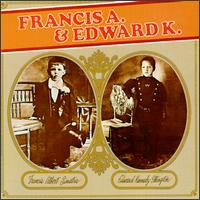 Release date(s)
1968
1988
1999
Recorded
December 11–12, 1967
Francis A. & Edward K. is a 1968 studio album by Frank Sinatra; it is Sinatra's fifty-third studio album. Sinatra performed this album with Duke Ellington and his big band. The album was arranged and conducted by Billy May.
Track listing
[
]
Reception
[
]
Allmusic scored the album at two and half stars, claiming the much-anticipated collaboration with the jazz giants "didn't quite match its high expectations." The album's performanced between Sinatra and Ellington were uneven, "varying between robust, expressive performances and thin singing."[1]
Francis A. & Edward K. peaked the Billboard 200 charts at #78.[2]
Personnel
[
]
Personnel

Sonny Burke
Audio Production, Producer
Jeff Castleman
Double Bass
Stan Cornyn
Liner Notes
Duke Ellington
Piano
Duke Ellington's Orchestra
Perforance
Lee Herschberg
Audio Engineer, Engineer
Billy May
arranger, conductor
Frank Sinatra
Vocals
Ed Thrasher
Art Direction
References
[
]