Frank Sinatra's Greatest Hits!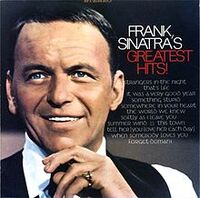 Release date(s)
August 1968 (LP)
May 1998 (CD)
Recorded
July 17, 1964 - July 24, 1967
Producer
Jimmy Bowen; Sonny Burke
Not to be confused with the Columbia compilation Frank Sinatra Sings His Greatest Hits.
Frank Sinatra's Greatest Hits! is Frank Sinatra's first compilation album released for Reprise Records.
The album features a variety of hits from his 1960s career, including songs from Strangers in the Night, The World We Knew, and September of My Years.
Track listing
[
]
"Strangers in the Night" (Bert Kaempfert, Charles Singleton, Eddie Snyder) - 2:25 – (originally from Strangers in the Night)
"Summer Wind" (Heinz Meier, Hans Bradtke, Johnny Mercer) - 2:53 – (originally from Strangers in the Night)
"It Was a Very Good Year" (Ervin Drake) - 4:25 – (with Gordon Jenkins and his Orchestra) (originally from September of My Years)
"Somewhere in Your Heart" (Russell Faith, Clarence Keltner) - 2:26 – (originally released as a single)
"Forget Domani" (Norman Newell, Riz Ortolani) - 2:36 – (originally released as a single)
"Somethin' Stupid" (with Nancy Sinatra) (Carson Parks) - 2:35 – (originally from The World We Knew)
"That's Life" (Kelly Gordon, Dean Kay Thompson) - 3:07 – (originally from That's Life)
"Tell Her (You Love Her Each Day)" (Gil Ward, Charles Watkins) - 2:40 – (originally from That's Life)
"The World We Knew (Over and Over)" (Kaempfert, Herb Rehbein, Carl Sigman) - 2:47 – (originally from The World We Knew)
"When Somebody Loves You" (Sammy Cahn, Jimmy Van Heusen) - 1:54 – (originally released as a single)
"This Town" (Lee Hazlewood) - 3:06 – (originally from The World We Knew)
"Softly, as I Leave You" (Hal Shaper, Antonio DeVito, Giorgio Calabrese) - 2:50 – (originally from Softly, as I Leave You)