For the song, see L.A. Is My Lady (song).
L.A. Is My Lady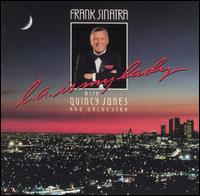 Release date(s)
August 1984
Recorded
April 13, 16–17, May 17, 1984
L.A. Is My Lady is an album of Frank Sinatra, released in 1984 for Qwest Records. This was Sinatra's sixty-fifth and final solo studio album.
Being for Qwest, L.A Is My Lady's tracks, as well as three further unreleased tracks, were featured in Sinatra's compilation set containing all of the tracks he performed during the Reprise years, The Complete Reprise Studio Recordings.
Track listing
[
]
Singles
[
]
Several songs from L.A. Is My Lady were released through singles. "Teach Me Tonight" and "The Best of Everything" were released as a single together. Later, "Mack the Knife" and "It's All Right with Me" were released as an A/B single. The final single featured the two songs, "L. A. Is My Lady" and "Until the Real Thing Comes Along."[1]
Reception
[
]
Allmusic rated the album a two out of five stars. The album's failures were pinned on "Jones' overly ambitious and commercial production." However, to those who worked on the album, Stephen Thomas Erlewine stated "everyone involved, from Sinatra and Jones to the band themselves, sounds like they're having fun, and that sense of joy effortlessly translates to the listener."[2]
L.A. Is My Lady peaked at #58 on the Billboard 200 charts as well as #8 on the Jazz Albums charts of 1984.[3]
Personnel
[
]
Personnel

Wayne Andre
Trombone
George Benson
Guitar
Alan Berliner
Photography
Marc Blitzstein
Composer
George Bohannon
Trombone
Oscar Brashear
Trumpet
Bertolt Brecht
Composer
Michael Brecker
Saxophone
Randy Brecker
Trumpet
Ray Brown
Bass
Leon "Ndugu" Chancler
Drums
Gene Cherico
Bass
John Clark
French Horn
Buddy Collette
Saxophone
Stan Cornyn
Liner Notes
Irving Cottler
Drums
Ollie Cotton
Associate Engineer
Bob Crenshaw
Bass
Steve Crimmel
Associate Engineer, Engineer
Ronnie Cuber
Saxophone
Joseph d'Ambrosio
Production Coordination
David Duke
French Horn
Mark Ettel
Associate Engineer, Engineer
Jon Faddis
Trumpet
Frank Foster
Arranger, Saxophone
Steve Gadd
Drums
Peter Gordon
French Horn
Gary Grant
Trumpet
Urbie Green
Trombone
William Green
Saxophone
Bernie Grundman
Mastering
Don Hahn
Remixing
Lionel Hampton
Vibraphone
Lee Herschberg
Digital Mastering
Jerry Hey
Arranger, Trumpet
Major Holley
Bass
Kim Hutchcroft
Saxophone
Craig Huxley
Synthesizer
Bob James
Fender Rhodes, Piano (Electric), Synthesizer
Hilary James
Fender Rhodes, Piano, Synthesizer
Sy Johnson
Fender Rhodes, Piano
Cliff Jones
Associate Remixing Engineer, Engineer
Quincy Jones
Arranger, Conductor, Producer
Randy Kerber
Fender Rhodes, Piano, Synthesizer
Bradshaw Leigh
Associate Engineer
Peggy Lipton
Composer
Harry Lookofsky
Concert Master
Ralph MacDonald
Percussion
Dave Matthew
Arranger
David Matthews
Arranger
Lew McCreary
Trombone
Marcus Miller
Bass
Tony Mottola
Guitar
Sidney Muldrow
French Horn
Sammy Nestico
Arranger
Joe Newman
Trumpet
Joel Newman
Trumpet (Muted)
Roger Nichols
Associate Engineer, Digital Engineer
Joe Parnello
Arranger, Fender Rhodes, Piano
Jerry Peel
French Horn
Benny Powell
Trombone
Tony Price
Tuba
Phil Ramone
Engineer, Mixing
Bill Reichenbach Jr.
Trombone
Jerome Richardson
Saxophone
Lee Ritenour
Guitar
John "J.R." Robinson
Drums
Bill Ross
Photography
Margaret Ross
Harp
Alan Rubin
Trumpet
Jimmy Santis
Engineer, Mixing
Elliot Scheiner
Assistant Engineer, Mixing Assistant, Remixing
James Self
Tuba
Amy Sherman
Harp
Allen Sides
Assistant Engineer, Engineer, Mixing Assistant
Henry Sigismonti
French Horn
Frank Sinatra
Performer
Gus Skinas
Digital Engineer, Engineer
David Smith
Digital Engineer
David Smith
Engineer
David Smith
Digital Engineer
Lew Soloff
Trumpet
Neil Stubenhaus
Bass
David Taylor
Trombone
Ed Thrasher
Photography
Stanley Wallace
Engineer, Mixing
Ed Walsh
Synthesizer
William Warren
Photography
Bill Watrous
Trombone
Kurt Weill
Composer
Frank Wess
Sax (Alto), Saxophone
Larry Williams
Saxophone
George Young
Saxophone
Snooky Young
Trumpet
Torrie Zito
Arranger
References
[
]