Moonlight Sinatra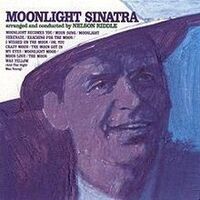 Recorded
November 29–November 30, 1965
Moonlight Sinatra is a 1966 album by Frank Sinatra. Moonlight Sinatra is Sinatra's forty-eighth studio album.
The tracks in this album, all centered around the moon, were arranged and conducted by Nelson Riddle and his orchestra.
Track listing
[
]
Singles
[
]
Only one song from Moonlight Sinatra was released as a single. The track "Oh, You Crazy Moon" was released along with Sinatra's 1966 Strangers in the Night's title track.[1]
Reception
[
]
Allmusic gave Moonlight Sinatra a three out of five star score, calling the album an "enjoyable, romantic listen."[2]
Moonlight Sinatra peaked at #34 on the Billboard 200 charts of 1966.[3]
Personnel
[
]
Personnel

Sonny Burke
Producer
Stan Cornyn
Liner Notes
Lowell Frank
Engineer
Nelson Riddle
Arranger, Conductor
Frank Sinatra
Vocals
Ed Thrasher
Art Direction
References
[
]