My Kind of Broadway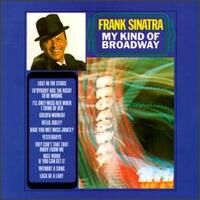 Recorded
May 2, 1961 – August 23, 1965
My Kind of Broadway is a 1965 album by Frank Sinatra. The album is considered at times both a studio album as well as a compilation album. It is Sinatra's forty-sixth studio album.
The album is a collection of songs from various musicals, pieced together from various recording sessions over the previous four years. Unlike the vast majority of his albums, My Kind of Broadway had several composers, the most on any other regular album Sinatra had released.
My Kind of Broadway only had one single release. The album's opening track, "Everybody Has the Right to Be Wrong (At Least Once)," was paired with the album's other Sammy Cahn, Jimmy Van Heusen song, "I'll Only Miss Her When I Think of Her." This single was released in mid-1965.[1]
Allmusic claimed that My Kind of Broadway was filled with undistinguished performances, but "the results are pretty spectacular, but the majority of the album is merely pleasant." The album, filled with several classics and fine arrangements, but the album's settup of being a collection of several sessions made it uneven. The overall score Allmusic gave My Kind of Broadway was a three out of five stars.[2]
My Kind of Broadway peaked at #30 on the Billboard 200 charts of 1966.[3]
Personnel

Sonny Burke
Producer
Stan Cornyn
Liner Notes
Edward Eliscu
Composer
Kenny Jacobson
Composer
Rhoda Roberts
Composer
Billy Rose
Composer
Frank Sinatra
Vocals
Ed Thrasher
Art Direction
Vincent Youmans
Composer
Community content is available under
CC-BY-SA
unless otherwise noted.