For the song "My Way," see "My Way (song)." For other uses, see "My Way."
My Way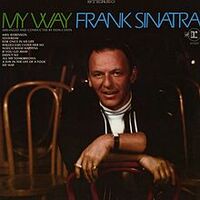 Release date(s)
March 1969
2009
Recorded
December 30, 1968
February 18, 1969
February 20, 1969
February 24, 1969
Total tracks
10 (1969 LP)
12 (2009 CD)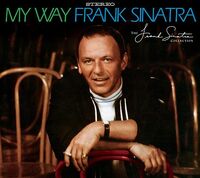 My Way, released in 1969, is a studio album Frank Sinatra released under Reprise Records. My Way is Sinatra's fifty-sixth studio album.
The album, arranged by Don Costa, features some of the time's most famous hits such as "Watch What Happens", "For Once in My Life", "Yesterday", and the title song, "My Way". "My Way" later became one of Sinatra's concert staples and became a pseudo theme song for Sinatra.
In 2009, a 40th anniversary version of the album was released; this special edition included two live performances made by Sinatra: one of "For Once in My Life" and the other of "My Way."
Track listing
[
]
Singles
[
]
The only single to be released for My Way was its title track, which was released with the song "Blue Lace."[1]
Reception
[
]
Allmusic thought that My Way had a "more varied selection of material and a more focused, gutsy performance from Frank Sinatra" than the previous year's Cycles. They also claimed that My Way was "successful in creating a middle ground between the traditional pop Sinatra loves and the contemporary pop/rock that dominated the charts in the late 60s." Allmusic's review scored My Way at three out of five stars.[2]
Mojo magazine scored the album in its 194th, January 2010 issue. Here, My Way also scored a three out of five stars.[3]
Personnel
[
]
Personnel

Abbey Anna
Production Assistant
Rikka Arnold
Editorial
Sonny Burke
Producer
Chris Clough
A&R
Larissa Collins
Art Direction
Stan Cornyn
Author
Don Costa
Arranger, Conductor, Producer
Jacques Demy
Composer
Hal Gaba
Executive Producer
Evelyn Haddad
Production Assistant
Dan Hersch
Mastering
Lee Herschberg
Engineer
Jimmy Hole
Design
John Lennon
Composer
Joe McEwen
A&R
Nick Phillips
Production Assistant
Charles Pignone
Producer, Tape Realizations
Leon J. Smith III
Audio Restoration
Jeffrey Spector
Production Assistant
Larry Walsh
Engineer, Mixing, Tape Realizations
References
[
]