Jurassic World: Dominion Dominates Fandom Wikis - The Loop
Play Sound
Nice 'n' Easy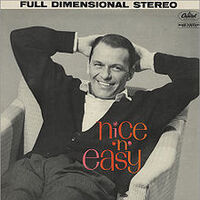 Release date(s)
1960
1991
2002
2008
Recorded
March 1 – 3, April 13
Nice 'n' Easy is the twenty-fourth studio album of Frank Sinatra.
The album was arranged by Nelson Riddle and featured new renditions of several songs from Sinatra's Columbia career among other classic standards as well. The only song that is not, is the opening track "Nice 'n' Easy," which was written for Sinatra to use in this album.
Track Listing
[
]
Singles
[
]
The title track of Nice 'n' Easy was released as a single featuring "This Was My Love" as its B-side.
Reception
[
]
Allmusic gave Nice 'n' Easy a perfect five out of five star score. Stephen Thomas Erlewine of Allmusic claimed that the album "lightest set that he recorded for Capitol." Though Nice 'n' Easy "doesn't have a touch of brooding sorrow -- it rolls along steadily, charming everyone in its path," Nelson Riddle's arrangements are "warm, cheery textures."[1]
Nice 'n' Easy peaked at #1 on the Billboard 200 charts of 1960. The title track of the album peaked at #60 on the Billboard Hot 100 charts of 1960.[2]
Awards and nominations
[
]
Nice 'n' Easy and its title track were nominated for a total of five Grammy Awards in 1961, however, Sinatra took home none of these awards. The album was nominated for the top awards of the year "Record" and "Album of the Year," but ultimately lost to Percy Faith's "Theme From A Summer Place" and Bob Newhart's The Button-Down Mind of Bob Newhart respectively. The album was also nominated in the category "Best Vocal Performance Album, Male" however, Sinatra lost to Ray Charles's The Genius of Ray Charles.
The title track of the album was nominated in the categories of "Best Vocal Performance Single Record or Track, Male" and "Best Performance by a Pop Single Artist." Sinatra lost, in both of these categories, to Ray Charles and his recording of "Georgia on My Mind."[3]
Personnel
[
]
Personnel

Fabian André
Composer
Alan Bergman
Composer
Jimmy Campbell
Composer
Dave Cavanaugh
Producer
J. Fred Coots
Composer
George Gershwin
Composer
Ira Gershwin
Composer
Haven Gillespie
Composer
Bert Kalmar
Composer
Michael Keith
Composer
Bob Norberg
Digital Remastering
Nelson Riddle
Arranger, Conductor, Saxophone
Harry Ruby
Composer
Wilbur Schwandt
Composer
Frank Sinatra
Vocals
Lew Spence
Composer
Pete Welding
Liner Notes
References
[
]