No One Cares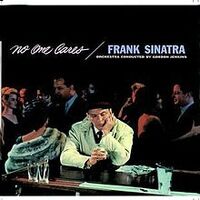 Release date(s)
1959
1991
2002
Recorded
March 24, 25, 26, May 14, 1959
Total tracks
11 (1959 LP)
15 (1991 CD)
No One Cares is the twenty-third studio album of Frank Sinatra; the tracks were arranged by Gordon Jenkins. The album was released in 1959 under Capitol Records.
No songs from the initial track list of No One Cares were released as singles, but one of the songs from the recording sessions were released as singles. "This Was My Love" was released with the title track of Sinatra's Nice 'n' Easy LP.[1]
Allmusic stated that the only flaw with No One Cares and its "brooding, lonely songs" was the lack of "grandiose melancholy of Only the Lonely." However, Allmusic's Stephen Thomas Erlewine stated that "in its slow, bluesly tempos and heartbreaking little flourishes, it is every bit moving."[2]
No One Cares peaked at #2 on the Billboard 200 charts of 1959.[3]
Personnel

Sammy Cahn
Composer
Dave Cavanaugh
Producer
James Van Heusen
Composer
E.H. Jay
Composer
Gordon Jenkins
Arranger, Conductor
Bob Norberg
Digital Remastering
Frank Sinatra
Vocals
Pyotr Il'yich Tchaikovsky
Composer
Larry Walsh
Digital Remastering
Bernie Wayne
Composer
Pete Welding
Compilation Producer, Liner Notes, Reissue Compilation
Bill Westbrook
Composer
Arthur Williams
Composer
Community content is available under
CC-BY-SA
unless otherwise noted.