She Shot Me Down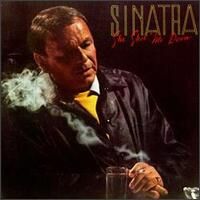 Release date(s)
November 1981
2004
2009
Recorded
April 8 in Hollywood, Los Angeles, California, and July 20, 21, August 19, September 10, 1981
She Shot Me Down is a 1981 studio album by Frank Sinatra and is his last work with his self-founded label, Reprise. The album is Sinatra's sixty-third studio album.
Only one song from She Shot Me Down was released as a single. "Good Thing Going (Going Gone)" was released along with the song "Say Hello" in 1981.[1]
Allmusic praised Jenkin's arrangements, as She Shot Me Down "largely consists of contemporary material, including five that were basically tailored for Sinatra." In comparison to 1980's Trilogy: Past Present Future, Stephen Thomas Erlewine claimed that in She Shot Me Down, "Sinatra's vocals are more alive and rich in detail than on Trilogy, and the concept is more concise and well-executed."[2]
The album peaked at #52 on the Billboard 200 charts of 1982. She Shot Me Down peaked at #12 on the Jazz Albums charts of 1982 as well.[3]
Irving Cottler
Personnel

Ted Brosnan
Assistant Engineer
Gene Cherico
Bass
Don Costa
Arranger, Conductor, Producer
Drums
Ken Deane
Mixing
Lee Herschberg
Engineer
Gordon Jenkins
Arranger, Conductor
Frank Laico
Engineer
Joseph Malin
Music Coordinator
Vladimir Meller
Mastering
Tony Mottola
Guitar
Tony Posk
Violin
Vijay Raghav Rao
Conductor
Nelson Riddle
Arranger
Frank Sinatra
Vocals
Harold Tarowski
Assistant Engineer
Ed Thrasher
Design, Photography
Irving Weiss
Coordination
Community content is available under
CC-BY-SA
unless otherwise noted.