Sinatra's Swingin' Session!!!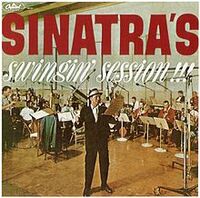 Release date(s)
1961
1987
1996
1998
Recorded
August 22-September 1, 1960
Total tracks
12 (1961 LP)
15 (1987 CD)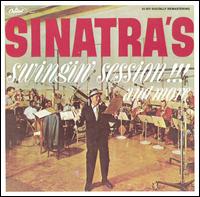 Sinatra's Swingin' Session!!! is Frank Sinatra's twenty-fifth studio album. This album was released in 1961 and was arranged by Nelson Riddle under Capitol Records. Swingin' Session marked the last album under Capitol Sinatra and Riddle would collaborate on, and the last album the pair would work on until Frank Sinatra's 1966 album Strangers in the Night.
Swingin' Session focuses on a brash swinging style similar to Sinatra's 1957 album A Swingin' Affair! This album, however, features different orchestration and sped up performances. The original album clocks nearly twenty-five minutes making it one of Sinatra's shortest albums. The tracks of the album focus on songs Sinatra had familiarized himself with near the end of his Columbia career and other ballads from that time.
Its CD re-release was titled "Sinatra's Swingin' Session!!! And More." This reissue of the album featured three bonus tracks, "Sentimental Baby," "Hidden Persuasion," and "Ol' McDonald." The first two were ballad arrangements recorded in September following the recording sessions of the album and the last was a swinging arrangement of the classic nursery rhyme with updated lyrics.
History
[
]
Production
[
]
Like most of Sinatra's previous Capitol records, the album was recorded at the Capitol Records Studios building in Hollywood, California. With Nelson Riddle arranging and conducting the tracks, Sinatra recorded the songs to be used in the album during four recording sessions during August and September of 1960.[3]
Track information
[
]
Each track in Swingin' Session follows the same rhythm, taking a classic ballad arrangement and Riddle's band swinging the song in a way never heard before. Only two songs clock out of the average two minutes, "Blue Moon" and "September in the Rain," which make for an opposite to some of Sinatra's shortest recordings of his Capitol career in songs like "You Do Something to Me" and "S'Posin."
Track listing
[
]
Singles
[
]
The song "My Blue Heaven" was released along with the song "Sentimental Baby," a song recorded but not featured in the LP, as a single in 1961. Two other songs from the recording sessions, "Old MacDonald" and "You'll Always Be the One I Love," were released together as a single in 1960.[1]
Reception
[
]
In comparison to A Swingin' Affair!, Stephen Thomas Erlewine of Allmusic stated that Sinatra's Swingin' Session!!! "doesn't have the brassy verve of A Swingin' Affair, but Sinatra's Swingin' Session!!! does have a confident, swaggering flavor of its own that makes it nearly as enjoyable."[2]
Sinatra's Swingin' Session peaked at #3 on the Billboard 200 charts of 1961.[4]
Personnel
[
]
Personnel

Alan Bergman
Composer
Irving Berlin
Composer
Lew Brown
Composer
Dave Cavanaugh
Producer
Buddy DeSylva
Composer
Mark Fisher
Composer
Joe Goodwin
Composer
Ray Henderson
Composer
Michael Keith
Composer
Bill Miller
Producer
Nelson Riddle
Conductor
Larry Shay
Composer
Frank Sinatra
Vocals
Lew Spence
Composer
Pete Welding
Liner Notes
References
[
]