Sinatra & Company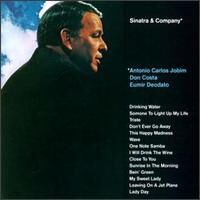 Recorded
February 11, 1969 – October 29, 1970
Sinatra & Company is an album by Frank Sinatra released in 1971. It is Sinatra's fifty-ninth studio album.
It was to be originally titled "Sinatra Jobim" as a follow-up to the 1967 album, Francis Albert Sinatra & Antonio Carlos Jobim.
Sinatra & Company is Frank Sinatra's final album before retiring from entertainment and performance. Sinatra later, in 1973, however came back to music with his Ol' Blue Eyes Is Back album.
The singles of Sinatra & Company were sporadically released. The first single from the album, one featuring "Lady Day" and "Song of the Sabiá," was released in 1970. Another song from the album, "Bein' Green," was released as a single with Sinatra's rendition of "Something" which wasn't released in a studio album until 1980's Trilogy: Past Present Future. The final single of the album featured "I Will Drink The Wine" and "Sunrise In The Morning," and this single was released in 1971.[2]
Allmusic gave Sinatra & Company a score of three and a half out of five stars. In comparison to the charts of Francis Albert Sinatra & Antonio Carlos Jobin, Sinatra & Company's "charts are looser and more relaxed; consequently, the music is lighter, more immediate, and arguably more fun." About the arrangements of the album, the "second half of Sinatra & Company ranks as some of his best soft rock-influenced material of the late '60s." [1]
Mojo magazine gave the album a low score of two out of five stars.[3]
Sinatra & Company peaked at #73 on the Billboard 200 charts of 1971.[4]
Personnel

Sonny Burke
Producer
Charles Champlin
Liner Notes
Danny Costa
Arranger, Producer
Don Costa
Arranger, Producer
Deodato
Arranger
Norman Gimbel
Composer
Antonio Carlos Jobim
Composer, Guitar, Performer, Piano, Vocals
João Palma
Drums
Frank Sinatra
Performer, Producer, Vocals
Claudio Slon
Drums
Morris Stoloff
Conductor
Ed Thrasher
Art Direction, Photography
Community content is available under
CC-BY-SA
unless otherwise noted.