Sinatra and Strings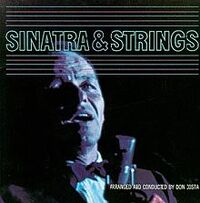 Release date(s)
January, 1962
Recorded
November 20, 21, 22, 1961
Total tracks
10 (12 in CD re-release)
Sinatra and Strings is a 1962 album by Frank Sinatra;[3] it is Sinatra's thirty-first studio album. Sinatra's first album with arranger Don Costa, Sinatra and Strings was well-reviewed featuring entirely ballads and low-key songs such as "Stardust", "Night and Day", and "That's All".
Track listing
[
]
Singles
[
]
Sinatra and Strings featured Sinatra's second rendition of "Stardust;" this version of the song was charted as a single along with the song "Come Rain or Come Shine."[1]
Reception
[
]
Allmusic praises Don Costa's luch arrangements on the album, however, claims that they are too similar to that of Sinatra's earlier Columbia recordings. Stephen Thomas Erlewine of Allmusicgave Sinatra and Strings a "three and a half out of five" stars.[2]
Sinatra and Strings peaked at #8 on the Billboard 200 charts in 1962.
Personnel
[
]
Personnel

West Arkeen
Composer
Keith Blake
Digital Mastering
Johnny Burke
Composer
Don Costa
Arranger, Conductor
Erroll Garner
Composer
Gregg Geller
Producer, Reissue Producer
Del James
Composer
J.J. Johnson
Composer
Clyde Otis
Composer
Kelly Owens
Composer
Bill Putnam
Engineer
M.T. Putnam
Engineer
Axl Rose
Composer
Merle Shore
Art Direction
Frank Sinatra
Vocals
Phil Stern
Cover Art, Cover Design
References
[
]