Sinatra and Swingin' Brass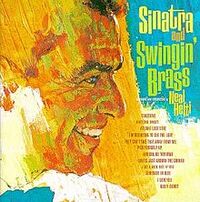 Recorded
May 18, 19, 23, 1961
Sinatra and Swingin' Brass is a 1962 studio album of Frank Sinatra released under Reprise Records. It is Sinatra's thirty-third studio album.
Track listing
Edit
Though not featured in the initial track listing, "Everybody's Twistin'" and "Nothing But the Best" were released as a single with each other.[1] A second single of "Goody Goody and "Love Is Just Around the Corner" was later featured as well.[1]
Reception
Edit
Sinatra and Swingin' Brass received mixed reviews. While receiving poor professional reviews from publications such as Allmusic[2], the album remains a fan favourite, featuring several covers of his Capitol work under Reprise.
Personnel
Edit
Personnel

Milton Ager
Composer
Harry Archer
Composer
Conte Candoli
Trumpet
Chuck Dukowski
Composer
Duke Ellington
Composer
Dorothy Fields
Composer
Gregg Geller
Producer, Reissue Producer
Lewis Gensler
Composer
Don George
Composer
George Gershwin
Composer
Ira Gershwin
Composer
Mack Gordon
Composer
Neal Hefti
Arranger, Conductor
Lee Herschberg
Digital Mastering, Digital Remastering
Johnny Hodges
Composer
James Isaacs
Liner Notes
Illinois Jacquet
Composer
Harry James
Composer
Gordon Jenkins
Composer
Jim Jonson
Artwork, Cover Art, Cover Design
Jerome Kern
Composer
Richard Keyes
Design
Joe Maini
Saxophone (Alto)
Matty Malneck
Composer
Skip Martin
Arranger
Al McKibbon
Bass
Johnny Mercer
Composer
Bill Miller
Piano
Jimmy Mundy
Composer
Earl Palmer
Drums
Cole Porter
Composer
Nelson Riddle
Arranger
Leo Robin
Composer
Victor Schertzinger
Composer
Merle Shore
Art Direction
Frank Sinatra
Vocals
Lawrence Stewart
Liner Notes
Al Stillman
Composer
Harlan Thompson
Composer
Jerry Jeff Walker
Composer
Harry Warren
Composer
Ben Webster
Saxophone (Tenor)
Jack Yellen
Composer
References
Edit