Sinatra at the Sands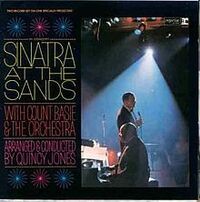 Release date(s)
July, 1966
Recorded
January 1966 and February 1966
Sinatra at the Sands is the first live album by Frank Sinatra and Count Basie's Orchestra, and also was arranged by Quincy Jones. It was performed live at Sands Hotel and Casino in Las Vegas, Nevada. The album, along with other live performances, was contained in the box set, Sinatra: Vegas.
"Come Fly with Me" (Sammy Cahn, Jimmy Van Heusen) – 3:45
"I've Got a Crush on You" (George Gershwin, Ira Gershwin) – 2:42
"I've Got You Under My Skin" (Cole Porter) – 3:43
"The Shadow of Your Smile" (Johnny Mandel, Paul Francis Webster) – 2:31
"Street of Dreams" (Victor Young, Sam M. Lewis) – 2:16
"One for My Baby (and One More for the Road)" (Harold Arlen, Johnny Mercer) – 4:40
"Fly Me to the Moon (In Other Words)" (Bart Howard) – 2:50
"One O'Clock Jump" (Instrumental) (Count Basie) – 0:53
"The Tea Break" (Sinatra Monologue) – 11:48
"You Make Me Feel So Young" (Mack Gordon, Josef Myrow) – 3:21
"All of Me" (Instrumental) (Gerald Marks, Seymour Simons) – 2:56
"The September of My Years" (Cahn, Van Heusen) – 2:57
"Luck Be a Lady" (Frank Loesser) – 4:40 (Found only in the 1988 and 2003 releases)
"Get Me to the Church on Time" (Frederick Loewe, Alan Jay Lerner) – 2:22
"It Was a Very Good Year" (Ervin Drake) – 4:01
"Don't Worry 'Bout Me" (Rube Bloom, Ted Koehler) – 3:18
"Makin' Whoopee" (Walter Donaldson, Gus Kahn) – 4:24
"Where or When" (Richard Rodgers, Lorenz Hart) – 2:46
"Angel Eyes" (Earl Brent, Matt Dennis) – 3:26
"My Kind of Town (Chicago Is)" (Cahn, Van Heusen) – 3:04
"A Few Last Words" (Sinatra Monologue) – 2:30
"My Kind of Town (Chicago Is)" (Reprise) – 1:00
Community content is available under
CC-BY-SA
unless otherwise noted.