Sleep Warm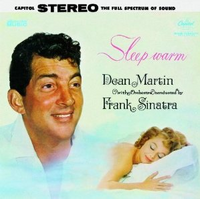 Release date(s)
March 2, 1959
1963
1996
2005
Recorded
April 2-30, 1957
Total tracks
12 (1957 LP)
16 (2005 CD)
Sleep Warm is an album of Dean Martin's released under Capitol Records in 1959. The album featured Frank Sinatra as the album's conductor. This album was Sinatra's fourth overall performance as an album's conductor, and his third on the Capitol label. Including the albums Sinatra serves as conductor, Sleep Warm is Sinatra's twenty-second studio album.
Sleep Warm, following Sinatra's lead, has a conceptual feel of focusing on sleeping and dreaming. The album's liner notes describe the album as a collection of "beguiling set of lullabies for moderns."
The album was released again in 1963. This release of the album featured a different name of Dean Martin Sings/Sinatra Conducts.
Recording dates
[
]
Tracks 3, 4, 6, and 9 recorded on October 13, 1958.
Tracks 1, 8, 11, and 12 recorded on October 14, 1958.
Tracks 2, 5, 7, and 10 recorded on October 15, 1958.
CD bonus tracks recorded on September 15, 1951, May 15, 1959, April 28, 1950, and March 3, 1950 respectively.
Track listing
[
]
"Sleep Warm" (Lew Spence, Marilyn Keith, Alan Bergman) – 3:51
"Hit the Road to Dreamland" (Harold Arlen, Johnny Mercer) – 2:51
"Dream" (Johnny Mercer) – 3:20
"Cuddle Up A Little Closer" (Karl Hoschna, Otto Harbach) – 3:12
"Sleepy Time Gal" (Ange Lorenzo, Richard A. Whiting, Joseph R. Alden, Raymond B. Egan) – 2:51
"Good Night Sweetheart" (Ray Noble, Jimmy Campbell, Reg Connelly) – 3:10
"All I Do Is Dream of You" (Nacio Herb Brown, Arthur Freed) – 2:46
"Let's Put Out the Lights (And Go To Sleep)" (Herman Hupfeld) – 2:45
"Dream a Little Dream of Me" (Wilbur Schwandt / Fabian Andre, Gus Kahn) – 3:16
"Wrap Your Trouble in Dreams (And Dream Your Troubles Away)" (Ted Koehler, Harry Barris, Billy Moll) – 2:59
"Goodnight, My Love" (Mack Gordon, Harry Revel) – 3:03
"Brahms' Lullaby" (Public Domain) – 3:00
"The Sailor's Polka" (Jerry Livingston, Mack David)
"Humdinger" (Edna Lewis, Irving Fields)
"Baby Obey Me" (Jay Livingston, Ray Evans)
"Zing-A Zing-A-Boom" (Black-Out e Ze Maria, Glen Moore)