Swing Along with Me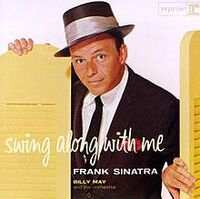 Release date(s)
July 1961 (LP)
October 1990
October 1999 (CD)
Recorded
May 18, 19, 23, 1961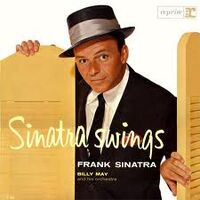 Swing Along with Me (retitled Sinatra Swings) is a 1961 studio album album; Frank Sinatra's second for his self-founded label, Reprise Records and his twenty-ninth studio album all together. The album was later renamed to be simply Sinatra Swings due to legal trouble with Capitol Records.
Legal Issues
[
]
Sinatra's leave really weakened and angered Capitol Records. Caspitol then sued Reprise as the album's name was similar to one of Sinatra's last Capitol albums (one that was competing with it at that time) Come Swing with Me!. A court order was eventually granted, giving Capitol the right to change the name of the album. And so, Swing Along with Me, just Sinatra's second work with his label, Reprise, was to be renamed and reissued with the new name, "Sinatra Swings"[4]
Track listing
[
]
Singles
[
]
In 1961, both "Granada" and "The Curse of an Aching Heart" were released as a single with each other. This was Sinatra's second single to be released under Reprise Records.[1]
Reception
[
]
Swing Along with Me was given mostly mixed reviews, criticized for its several similarities to Come Swing with Me. The album received a score of 3½ out of 5[2] by Allmusic.
Swing Along with Me peaked at #6 on the Billboard 200 charts.[5]
Personnel
[
]
Personnel

Paul Hesse
Photography
Billy May
Arranger, Conductor
Al Piantadosi
Composer
Merle Shore
Art Direction
Frank Sinatra
Vocals
References
[
]