Swing Easy!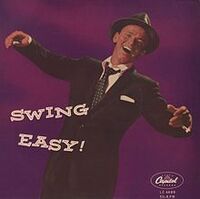 Release date(s)
August 2, 1954
Recorded
April 7, April 19, 1954
Total tracks
18 (12 in CD re-release)
Swing Easy! is the ninth studio album of Frank Sinatra.
It was released under Capital Records and was his first actual arrangement with Nelson Riddle.
Like it's predecessor of Songs for Young Lovers, Swing Easy! was released again in 1960 as an LP along with new songs. Swing Easy! was also re-released on CD along with tracks of Songs for Young Lovers.
While none of the songs from the original album charted or were released as singles, "Lean Baby," a song from the recording dates of Swing Easy!, was released as a single with the song "I'm Walking Behind You." Released in 1953, this was Sinatra's first single under Capitol Records.[1]
Allmusic loved Swing Easy!, scoring it at four and a half out of five stars. Stephen Thomas Erlewine of Allmusic claimed that "it ranks as one of his most jazzy performances, as well as one of his most fun and carefree records."[2]
Personnel

Harry Archer
Composer
Harry Barris
Composer
Chester Conn
Composer
Vernon Duke
Composer
Ted Fetter
Composer
Ted Koehler
Composer
Benny Krueger
Composer
John Latouche
Composer
Ned Miller
Composer
Billy Moll
Composer
Nelson Riddle
Arranger, conductor
Frank Sinatra
Vocals
Jule Styne
Composer
Harlan Thompson
Composer
Community content is available under
CC-BY-SA
unless otherwise noted.