For the song "That's Life," see "That's Life (song)."
That's Life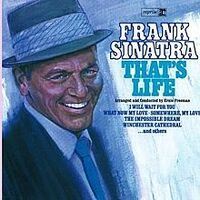 Cover art by Bill George
Release date(s)
November 18, 1966
1974 (LP)
October 6, 1986 (CD)
Recorded
October 18, 1966 - November 18, 1966
That's Life is a 1966 Reprise Records album performed by Frank Sinatra; it is Sinatra's fiftieth studio album. The album was conducted by Ernie Freeman.
The overall theme of the album starts off with the hit song, of which the album is titled, "That's Life". Other tracks in the album include such songs as "Winchester Cathedral" and "The Impossible Dream (The Quest)".
Track listing
[
]
Singles
[
]
Only one single was released for That's Life — the title track. "That's Life" was released as a single in 1966 along with the title track to Sinatra's 1965 September of My Years.[1]
Reception
[
]
Allmusic gave the album a score of three out of five stars, criticizing the blues feel of the title track "wasn't attempted for the entire album."[2]
That's Life peaked at #6 on the Billboard 200 charts of 1967. In 1966, the title track of the album peaked at #4 on the Billboard Hot 100 charts and #1 on the Adult Contemporary chart. "That's Life" also peaked at #25 on the R&B singles chart of 1967.[3]
Personnel
[
]
Personnel

Gilbert Bécaud
Composer
Jimmy Bowen
Producer
Eddie Brackett
Engineer
Jimmy Brown
Producer
Stan Cornyn
Liner Notes
Joe Darion
Composer
Mack David
Composer
Jacques Demy
Composer
Ernie Freeman
Arranger, Conductor
Ernie Freeman Combo
Arranger, Conductor
Bill George
Artwork, Cover Art, Illustrations
Norman Gimbel
Composer
Kelly Gordon
Composer
Lee Herschberg
Engineer
Michel Legrand
Composer
Mitch Leigh
Composer
Pierre Leroyer
Composer
Carl Sigman
Composer
Frank Sinatra
Vocals
Dean Kay Thompson
Composer
Ed Thrasher
Art Direction
Maurice Vidalin
Composer
Samuel A. Ward
Composer
Charles Watkins
Composer
References
[
]