The Rat Pack - The Big Three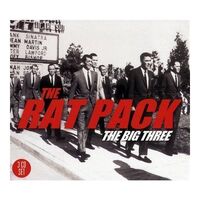 {{{rev1name}}}
{{{review1}}}
{{{rev2name}}}
{{{review2}}}
{{{rev3name}}}
{{{review3}}}
{{{rev4name}}}
{{{review4}}}
The Big Three is an album featuring 20 recordings each by three members of The Rat Pack - Frank Sinatra, Dean Martin and Sammy Davis Jr.. Each singer has their own CD.
Disc One - Frank Sinatra
Disc Two - Dean Martin
1. Hey, Brother, Pour The Wine
2. Memories Are Made Of This
3. The Naughty Lady Of Shady Lane
4. When You're Smiling
5. Young And Foolish
6. You Belong To Me
7. That's Amore
8. Kiss
9. Standing On The Corner
10. Mambo Italiano
11. Who's Sorry Now?
12. Just One More Chance
13. Sway
14. Powder Your Face With Sunshine (Smile! Smile! Smile!)
15. Let Me Go Lover
16. Once In Love With Amy
17. Money Burns A Hole In My Pocket
18. I Don't Care If The Sun Don't Shine
19. Wham! Bam! Thank You Ma'am
20. How D' Ya Like Your Eggs In The Morning?
Disc Three - Sammy Davis Jr.
1. Be-Bop The Beguine
2. Something's Gotta Give
3. It's All Right With Me
4. Love Me Or Leave Me
5. Birth Of The Blues
6. That Old Black Magic
7. My Funny Valentine
8. You Do Something To Me
9. Body And Soul
10. These Foolish Things
11. Hey There
12. The Thrill Is Gone
13. Easy To Love
14. All Of You
15. Come Rain Or Come Shine
16. Smile, Darn Ya, Smile
17. Tenderly
18. September Song
19. Someone To Watch Over Me
20. Laura