The Concert Sinatra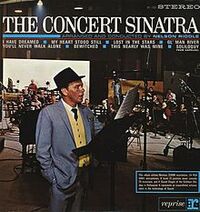 Release date(s)
1963
January 17, 2012
Recorded
February 18–February 21, 1963
The Concert Sinatra is a 1963 studio album by Frank Sinatra released under Sinatra's Reprise label. The album is Sinatra's thirty-eighth studio album.
Frank Sinatra recorded The Concert Sinatra alongside Nelson Riddle and his orchestra. The Concert Sinatra's name refers to Riddle's orchestra, which for the recording used many musicians.
The album has been recognized as the point in which Sinatra's voice was at its peak. Nelson Riddle allegedly claimed this to be his favorite work with Reprise.
In 2012, The Concert Sinatra was reissued on compact disc under Concord Records. The only issue with the CD was the sound quality of the album was remixed and changed around. Charles Pignore, the producer of the CD release, claimed that the new release of the album gives a "you are there" feeling, however, the result of this mix is up to the listener of the album.
Concord's disc of the record features the original films that were located and restored for the production of this release.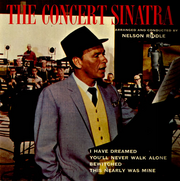 The Concert Sinatra was released as an extended play for British release as well as the initial 35mm release. The smaller disc featured only four songs from the album, and was released only in European nations.
Extended play track listing:
Allmusic gave The Concert Sinatra a favorable review, praising such songs as "Ol' Man River," "Bewitched, Bothered and Bewildered," and "Soliloquy." The album scored three and a half out of five stars.[1]
Mojo gave the album a four out of five star score in its January 2010 issue, featuring several Sinatra albums.[2]
The Concert Sinatra, in 1963, peaked the Billboard 200 charts at #6.[3]
Personnel

Ted Allen
Cover Photo
Maxwell Anderson
Composer
Gregg Geller
Reissue Producer
Oscar Hammerstein II
Composer
Russ Hanson
Engineer
Lorenz Hart
Composer
Lee Herschberg
Digital Mastering
Jerome Kern
Composer
Raymond V. Pepe
Liner Notes
Nelson Riddle
Arranger, Conductor
Richard Rodgers
Composer
Merle Shore
Art Direction
Frank Sinatra
Vocals
Frank Sinatra, Jr.
Liner Notes (CD)
Lawrence Stewart
Liner Notes
Vinton Vernon
Mixing
Kurt Weill
Composer
Community content is available under
CC-BY-SA
unless otherwise noted.