The Man I Love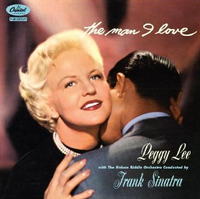 Recorded
April 2-30, 1957
The Man I Love is an album recorded by Peggy Lee in April of 1957. The album was released later in that year.
Under Capitol Records, Frank Sinatra began a subdivision of his recordings. Following his 1956 album, Frank Sinatra Conducts Tone Poems of Color, Sinatra began working with new conducting albums. This album was Sinatra's third album in which he conducted the melodies; the second under the Capitol label.
Including conducted albums, it is the fifteenth album Sinatra recorded during his career.
"The Man I Love" (George Gershwin, Ira Gershwin) - 3:45
"Please Be Kind" (Sammy Cahn, Saul Chaplin) - 4:14
"Happiness is a Thing Called Joe" (Harold Arlen, Yip Harburg) - 4:05
"(Just One Way to Say) I Love You" (Irving Berlin) - 2:53
"That's All" (Alan Brandt, Bob Haymes) - 2:55
"Something Wonderful" (Oscar Hammerstein II, Richard Rodgers) - 3:15
"He's My Guy" (Gene de Paul, Don Raye) - 4:13
"Then I'll Be Tired of You" (Harburg, Arthur Schwartz) - 2:28
"My Heart Stood Still" (Lorenz Hart, Rodgers) - 2:45
"If I Should Lose You" (Ralph Rainger, Leo Robin) - 2:23
"There Is No Greater Love" (Isham Jones, Marty Symes) - 3:38
"The Folks Who Live On the Hill" (Hammerstein, Jerome Kern) - 3:37
Community content is available under
CC-BY-SA
unless otherwise noted.