This Is Sinatra!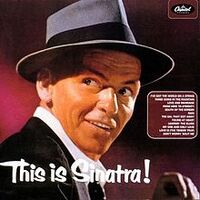 Recorded
April 30, 1953 - September 13, 1955
'This Is Sinatra! is a 1956 compilation album of Frank Sinatra for Capitol Records. It charted some of his highest rated singles under the label.
The album followed a series of Capitol albums such as This Is Nat King Cole and This Is Dean Martin, compilation albums of Nat King Cole and Dean Martin respectively. In 1958, a sequel album, titled This Is Sinatra Volume 2.
Track listing
[
]
"I've Got the World on a String" (Harold Arlen, Ted Koehler) - 2:14
"Three Coins in the Fountain" (Jule Styne, Sammy Cahn) - 3:07
"Love and Marriage" (Jimmy Van Heusen, Cahn) - 2:41
"From Here to Eternity" (Freddy Karger, Robert Wells) - 3:01
"South of the Border" (Jimmy Kennedy, Michael Carr) - 2:52
"

Rain (Falling From The Skies)

" (Robert Mellin, Gerald Finlay) - 3:27
"The Gal That Got Away" (Arlen, Ira Gershwin) - 3:12
"Young at Heart" (Johnny Richards, Carolyn Leigh) - 2:53
"Learnin' the Blues" (Dolores Silvers) - 3:04
"My One and Only Love" (Guy Wood, Mellin) - 3:14
"(Love Is) The Tender Trap" (Van Heusen, Cahn) - 3:00
"Don't Worry 'Bout Me" (Rube Bloom, Koehler) - 3:07