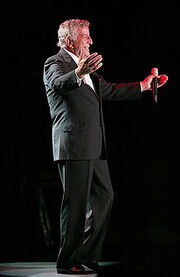 Tony Bennett (born Anthony Dominick Benedetto; August 3, 1926) is a jazz/pop singer who was good friends with Frank Sinatra.
Career
[
]
Bennett's early career went slightly unnoticed throughout the fifties, but until the late fifties and early sixties, Bennett's career took a turn for the better. After his first successes with Columbia, Bennett, in the mid-sixties reached a point of struggle due to the late sixties and seventies introducing more Rock and Roll hits. Until he re-signed to Columbia, Bennett faced drug addiction and was without a recording contact. After re-signing to Columbia, Bennett recording his 1986 hit album, The Art of Excellence. Ever since his turnaround with The Art of Excellence, Bennett has financially prospered, releasing new hit albums every few years.
[

]
Tony Bennett, during the mid-sixties, was a crooner affiliated with the "Las Vegas" scene of jazz. During this time, Bennett performed every once in a blue moon with the Rat Pack among other performances in Las Vegas. Bennett also was one of the many artists selected to perform in the Sinatra's 1993 album, Duets. For Duets, he performed one of the Sinatra's most famous hits, "Theme from New York, New York." Bennett, in 1992, also released a Sinatra tribute album titled Perfectly Frank. At Frank Sinatra funeral, Tony Bennett, along with Gregory Peck and Frank Sinatra, Jr., was one of the people who addressed the mourners to give a rousing speech.
In his late career, Bennett also founded a school for young gifted singers, the Frank Sinatra School of the Arts in Astoria, Queens.