Trilogy: Past Present Future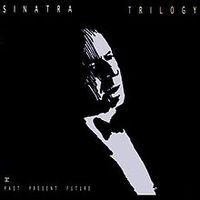 Recorded
July 17 - December 18, 1979
Trilogy: Past Present Future (simply referred to as Trilogy) is a 1980 studio album by Frank Sinatra. It is Sinatra's sixty-second studio album.
The album is known as Sinatra's last concept album, focusing on his career throughout the years. The first disc, titled "The Past", focused on standards similar to those he performed in late 50s and late 60s, while the second disc, titled "The Present", was riddled with pop hits Sinatra made throughout the Reprise years, inlcuding his final signature song, his rendition of the theme song from the film, "New York, New York". The final disc, "The Future" contained a few songs, all of which written by Gordon Jenkins, but most importantly, the three part, 13 minute song, "The Future".
"What Time Does the Next Miracle Leave?" (Gordon Jenkins) – 10:44
"World War None!" (Gordon Jenkins) – 4:27
"The Future" (Gordon Jenkins) – 4:05
"The Future (Continued): I've Been There" (Gordon Jenkins) – 3:33
"The Future (Conclusion): Song Without Words" (Gordon Jenkins) – 6:00
"Before the Music Ends (Finale)" (Gordon Jenkins) – 9:46
Trilogy featured two different singles that were released during 1980. The first of these singles featured "Theme from New York, New York" and "That's What God Looks Like to Me." The song "You and Me (We Wanted It All)" was released along with the song "I've Been There!" for another single. "That's What God Looks Like to Me" was later re-released as a separate single featuring "To Love a Child." [1]
Allmusic rated the album at two out of five stars, claiming that the album had several flaws and inconsistencies. For the Past disc, Stephen Thomas Erlewine stated that this disc was riddled with "the material best suited for his [Sinatra's] talents." The Present disc is criticized by claiming that "the material is mediocre" though "Don Costa's arrangements are lovely, as is Sinatra's singing." In the words of the review, "The Future is an unqualified mess...Sinatra sounds lost singing clichéd, trite lyrics about peace, space travel, and his past."[2]
Trilogy: Past Present Future peaked at #17 on the Billboard 200 charts of 1980.[3]
Trilogy: Past Present Future was awarded the Grammy Award for "Best Album Notes" at the 1980 Grammy ceremonies thanks to David McClintock.[4]
Personnel

Rochelle Abramson
Violin
Anahid Ajemian
Violin
Adrian Albert
Choir, Chorus
Robert Alexander
Trombone
Jacqueline May Allen
Choir, Chorus
Sanford Allen
Violin
Sue Allen
Choir, Chorus
Judith Aller-Talvi
Violin
Lamar Alsop
Viola
Dale Anderson
Percussion
Donald Ashworth
Saxophone
David Atkins
Clarinet
James Atkinson
Horn
John Audino
Trumpet
Phil Ayling
Clarinet
B.J. Baker
Choir, Chorus
Israel Baker
Violin
Seymour Barab
Cello
Julien Barber
Viola
Billie Barnum
Choir, Chorus
Edwin Beach
Cello
Vincent Bell
Guitar
Meyer Bello
Viola
Blanche Belnick
Violin
Jay Berliner
Guitar
Seymour Berman
Viola
Mary Sue Berry
Choir, Chorus
John Best
Trumpet
Michael Bloom
Viola
Harry Bluestone
Concert Master, Violin
Richard Bock
Cello
Phil Bodner
Woodwind
Dick Bolks
Choir, Chorus
William Booth
Trombone
Aubrey Bouck
French Horn
Diana Brodick
Violin
Bill Brown
Choir, Chorus
Kathrine Louise Brown
Choir, Chorus
Kathy Brown
Choir, Chorus
Bobby Bruce
Balloon, Violin
Frank Bruno
Bass
Sherman Bryana
Viola
James Buffington
French Horn
Julianna Buffum
Cello
Thomas Buffum
Violin
Frederick Buldrini
Violin
Peter Buonconsigilio
Violin
Sonny Burke
Producer
Clark Burroughs
Choir, Chorus
Julianna Burrum
Cello
Merritt Buxbaum
Saxophone
Amick Byram
Choir, Chorus
Max Cahn
Violin
Martha Caplin
Violin
Al Capps
Choir, Chorus
David Carey
Percussion
Carmichael
Choir, Chorus
Vangie Carmichael
Choir, Chorus
Doris Carr
Violin
Norman Carr
Violin
Fran Carroll
Choir, Chorus
Jack Cavari
Guitar
Richard Centalonza
Woodwind
Gene Cherico
Bass
Gene Cipriano
Woodwind
Peggy Clark
Choir, Chorus
Ronald Clark
Violin
Steve Clayton
Choir, Chorus
Ronald Cooper
Cello
Sid Cooper
Woodwind
Alan Copeland
Choir, Chorus
Morty Corb
Bass
Don Costa
Conductor
Guy Costa
Arranger, Conductor, Music Preparation
Irving Cottler
Drums, Percussion
Warren Covington
Trombone
Robert W. Daugherty
Bass
Alan Davies
Choir, Chorus
Douglas Davis
Cello
Mel Davis
Trumpet
Al d'Capps
Choir, Chorus
Joseph de Angeles
French Horn
Glenn Dicterow
Violin
Peter Dimitriades
Violin
Anthony S. Doria
Violin
George Duvivier
Bass
Lisa Edelstein
Flute
Walter Edelstein
Violin
Julius Ehrenwerth
Cello
Ernest Ehrhardt
Cello
Joan Elardo
Clarinet
Lewis Eley
Violin
Christine Ermacoff
Cello
Alan Estes
Harp
Harvey Estrin
Woodwind
Vincent Falcone, Jr.
Piano
Eileen Farrell
Vocals
Paul Faulise
Trombone
Joe Ferrante
Trumpet
Chuck Findley
Trumpet
Robert Findley
Trumpet
Frank Foster
Violin
Fowler Friedlander
Bassoon
Susan S. Fries
Woodwind
David Frisina
Concert Master
John Frosk
Trumpet
Frank Gari
Choir, Chorus
Jan Gassman
Choir, Chorus
Ellie Geffert
Choir, Chorus
Russell George
Bass
George Gershwin
Composer
Ira Gershwin
Composer
James Getzoff
Violin
Terry Glenny
Violin
Harry Glickman
Violin
Pamela Goldsmith
Viola
Mitch Gordon
Choir, Chorus
Jerry Graff
Choir, Chorus
Robin L. Graham
French Horn
Frank A. Granato
Bass
Christine Grant
Choir, Chorus
Dominick Gravine
Trombone
Gary Gray
Saxophone
Ed Green
Engineer
Margaret Guilbeau
Cello
Jim Haas
Choir, Chorus
Steve Haas
Choir, Chorus
Jim D. Hackmann
Bass
Sandi Hall
Choir, Chorus
Rhonni Hallman
Violin
Gordon Harkness
Choir, Chorus
Walt Harrah
Choir, Chorus
Hilda Harris
Choir, Chorus
Allan Harshman
Viola
Nelson Hatt
Trumpet
Gwen Heller
Violin
Todd Hemmenway
Cello
Lee Herschberg
Engineer
Ron Hicklin
Choir, Chorus
Lloyd W. Hildebrand
Clarinet
Reginald Hill
Violin
Paula Hochhalter
Cello
Max Hollander
Violin
Boyde W. Hood
Trumpet
Errol Horne
Choir, Chorus
John Allen Hornschuch
Bass
Igor Horoshevsky
Cello
Igor Horoshewsky
Cello
Nancy Adams Huddleston
Choir, Chorus
William Hymanson
Violin
Regis Iandiorio
Violin
Lois Irwin
Composer
Marilyn Jackson
Choir, Chorus
Jules Jacob
Woodwind
Beverly Jenkins
Alto (Vocals), Choir, Chorus, Vocals
Gordon Jenkins
Arranger, Conductor
Diann Jezurski
Viola
Davida Johnson
Violin
John Thomas Johnson
Tuba
Walt Johnson
Trumpet
Gary Jones
Choir, Chorus
Jon Joyce
Choir, Chorus
Rosemary Jun
Choir, Chorus
Leo Kahn
Violin
Walter Kane
Woodwind
Ronn B. Kaufmann
French Horn
Ray Kelley
Cello
Tom Kenny
Choir, Chorus
Karen Kenton
Choir, Chorus
Larry Kenton
Choir, Chorus
Louis Kievman
Viola
Patricia S. Kindel
Bassoon
Jon Kip
Woodwind
Harry Klee
Woodwind
Al Klink
Woodwind
Bernie Knee
Choir, Chorus
Arnold Koblentz
Violin
Harold Kohon
Violin
George Koutzen
Cello
Nancy M. Koutzen
Cello
Cynthia Kovacs
Viola
Mark Kovacs
Guitar, Viola
Renita Koven
Viola
Stephens la Fever
Bass
Steve La Fever
Bass
Frank Laico
Engineer
Janet Lakatos
Violin
Carl LaMagna
Violin
Mary C. Lane
Cello
Douglas Laurence
Choir, Chorus
Diana Lee
Choir, Chorus, Soprano (Vocal), Vocals
Alexander L. Lepak
Percussion
Archie Levin
Viola
Walter Levinsky
Woodwind
Jesse Levy
Cello
Robert S. Lezin
Violin
Marvin Limonick
Violin
Peter Limonick
Percussion
Carolisa Lindberg
Cello
Robert Lipsett
Violin
Joseph Livoti
Violin
Charles Loper
Trombone
John Lowe
Woodwind
Mary Debra Lundquist
Violin
Margot MacLaine
Viola
Niki Magee
Violin
Charles Magruder
Choir, Chorus
June Magruder
Choir, Chorus
Gilda Maiken
Choir, Chorus
Carmel Malin
Violin
Joseph Malin
Concert Master, Conductor
Lynn Dolin Mann
Choir, Chorus
Jack Marsh
Bassoon
Ron Marshall
Choir, Chorus
Patricia M. Mathews
Viola
Richard Maximoff
Viola
Billy May
Arranger, Conductor
David McClintock
Liner Notes
Suzie McCune
Choir, Chorus
Edward Meares
Bass
Melissa Meel
Cello
Homer Mensch
Bass
Gene Merlino
Choir, Chorus
Johnny Messner
Trombone
Jay Meyer
Choir, Chorus
Julie Miller
Choir, Chorus
Verlye Mills
Harp
Tony Miranda
French Horn
Kermit Moore
Cello
Gene Morford
Choir, Chorus
Marvin Morgenstern
Violin
Kenneth E. Munday
Bassoon
Alex Murray
Violin
Richard Nash
Trombone
Ted Nash
Woodwind
Lou Anne Neill
Harp
Marty Nelson
Choir, Chorus
David L. Newman
Violin
Hadassa Newman
Cello
Richard L. Noel
Trombone
Loulie Jean Norman
Choir, Chorus, Soprano (Vocal)
Brian D. O'Connor
French Horn
Lan O'kun
Composer
Nils Oliver
Cello
Sid Page
Violin
Hyung-Sun Paik
Violin
Bruce Paulson
Trombone
Richard Perry
Trumpet
Stanley Plummer
Violin

Barbara Porter

Viola
G.G. Prosper
Choir, Chorus
Hugo Raimondi
Clarinet
Matthew Raimondi
Violin
Vijay Raghav Rao
Conductor, Piano
Uan Rasey
Trumpet
Thurl Ravenscroft
Choir, Chorus
Michael Redman
Choir, Chorus
Sven Reher
Viola
Alexander Reisman
Cello
Peter Rejto
Cello
Eric S. Remsen
Harp
Harvey Restrin
Woodwind
Darice Richman
Choir, Chorus
Nelson Riddle
Arranger
Carl Vincent Rigoli
Harp, Percussion
Julia Rinker
Choir, Chorus
Kathleen Robinson-Barker
Woodwind
Alan Robinson
Horn
Gale Robinson
Horn
Marilyn Robinson
Horn
Mel Rodnin
Woodwind
Richard Romoff
Bass
James V. Ross
Violin
Margaret Ross
Harp
Geri Rotella
Woodwind
Henry Roth
Violin
Meyer Rubin
Bass
Santo Russo
Trombone
John Sambuco
Violin
Linda San Filippo
Cello
Sheldon Sanov
Violin
John Santulis
Violin
Victor Sazer
Cello
Sol Schlinger
Woodwind
David Schwartz
Viola
Wilbur Schwartz
Saxophone, Woodwind
David P. Searfoss
Trumpet
James Self
Trombone
Sandra Seymour
Violin
Thomas Shepard
Trombone
Leena Sherman
Viola
David Sherr
Woodwind
Claude Sherry
Horn
Daniel Shindaryov
Violin
Arkady Shindelman
Violin
Ross Shub
Violin
Alan Shulman
Cello
Robert Shushel
Violin
Ray Siegel
Bass
Ralph Silverman
Violin
Barbara Simons
Viola
Frank Sinatra
Vocals
William Slapin
Woodwind
Jennifer Small
Violin
Todd Sommer
Percussion
Wayne E. Songer
Saxophone
Richard Sortomme
Violin
Marshall Sosson
Violin
Michael Spivakowsky
Viola
Spiro Stamos
Violin
Robert Steen
Clarinet, Woodwind
Joseph Stephansky
Violin
Lya Stern
Violin
Robert Stevens
Choir, Chorus
Sally Stevens
Choir, Chorus
Maretha Stewart
Choir, Chorus
Martha Stewart
Choir, Chorus
Terry Stillwell
Choir, Chorus
Robert Stone
Bass
Linn Subotnick
Viola
Jacquie Sullivan
Choir, Chorus
Robert Sushel
Violin
Robert Tebow
Choir, Chorus
Barbara Thoamson
Viola
Brooks Tillotson
French Horn
Rose Tillotson
Viola
Pam Tompkins
Violin
Charles Henry Turner
Trumpet
David D. Turner
Violin
Lloyd Ulyate
Trombone
Al Viola
Guitar
Donald Waldrop
Trombone
James Walker
Woodwind
Edmond Walter
Tuba
Jackie Ward
Choir, Chorus
William R. Watrous
Trombone
Jerome Webster
Violin
Tony Wells
Choir, Chorus
Jim Wheeler
Choir, Chorus
Linda Wheeler
Choir, Chorus
Ann White
Choir, Chorus
Jerry Whitman
Choir, Chorus, Director, Narrator
Dave Wilson
Choir, Chorus
John Wittenberg
Violin
George Wozniak
Violin
Vern Yocum
Music Preparation
David H. Young
Bass
Jimmie Young
Drums
Jimmy Young
Drums
Tibor Zelig
Violin
Community content is available under
CC-BY-SA
unless otherwise noted.