Watertown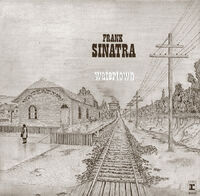 Release date(s)
March 1970 (LP)
1994
2010 (CD)
Recorded
July 14 - 17, 1969
Total tracks
10 (11 in 1994 CD release)
Watertown is the fifty-eighth studio album by Frank Sinatra. The album was released in 1970 for Reprise Records.
Watertown tells the story of a man from Watertown, New York whose wife, Elizabeth, leaves him and her young sons Michael and Peter behind to supposedly live with another man in a faraway big city. The songs make up a suite of scenes which take us from his disbelief of her leaving, to his discovery of how much he really loved her, to his despair that she is never, ever coming back. The original intent of the album project was to produce a movie along this premise, but it never materialized.
The album was an extensive and brilliant take for Sinatra on the rock-pop genre of the late 1960s. Watertown was arranged by Bob Gaudio, a member of the Four Seasons, with lyrics by Jake Holmes. It was one of the only times Sinatra did not record live with the orchestra; orchestral tracks were laid down in Manhattan and Sinatra overdubbed them a month later in Hollywood. The original LP featured a beautiful pen and ink illustrated gatefold, a departure from typical Sinatra album covers which did not include a photo of him. There was, however, a poster included with the album showing Frank in what might have been his Watertown movie role.[3]
This was Sinatra's second-to-last album before his retirement in the early 1970s. The final album to be released before his retirement was his second collaboration with Antonio Carlos Jobim, Sinatra & Company.
Track listing
[
]
Singles
[
]
In 1969, two different singles were released for the album. The songs "I Would be in Love (Anyway)" and "Watertown" were released together. Another single that featured "What's Now is Now" and "The Train."[1]
Reception
[
]
Allmusic praised the album, calling it Sinatra's "most explicit attempt at rock-oriented pop." Stephen Thomas Erlewine of Allmusic, in addition, claimed that "the culminating effect of the songs is an atmosphere of loneliness, but it is a loneliness without much hope or romance" and thus "he turns in a wonderful performance, drawing out every emotion from the lyrics." Allmusic scored the album at four and a half out of five stars.[2]
Watertown peaked at #101 on the Billboard 200 charts of 1970. "I Would Be in Love (Anyway)" peaked at #4 of the 1970 Adult Contemporary charts and at #88 of the Billboard Hot 100 charts.[4]
The album was released to mixed critical reviews and poor sales. Due to these sales, the album's initial live musical performance was cancelled, followed by Sinatra's temporary retirement near the end of 1971. In 1973, he reemerged with an award-winning, best-selling album, Ol' Blue Eyes Is Back.
Personnel
[
]
Personnel

Vincent Bell
Guitar
Charles Calello
Arranger, Conductor
Roy Cicala
Editing, Remixing
Bob Gaudio
Arranger, Composer, Producer
Manny Green
Concert Master
Lee Herschberg
Digital Mastering, Mixing
Jake Holmes
Composer
Jake Homes
Composer
Frank Laico
Engineer
Joe McEwen
Reissue Supervisor
Ed O'Brien
Liner Notes
Ove Olsen
Cover Art
Joe Scott
Arranger, Conductor
Frank Sinatra
Vocals
Don Snyder
Design
References
[
]